Copyright 1998
Femdom Literature
Drawings by Maxie Dickey
Now in college, Lance thought he could get a girlfriend. However, women didn't seem to care for him. Making things worst, he was very persistent with the girls at the university. He tried to date every girl he saw, always getting rejected. There was this one girl he was interested in.
One day, he went up to her and said, " Hi Becky…how would you like to go to a movie with me tonight?"
Becky replied, " How many times do I have to tell you…no…leave me alone!"
The guy didn't stop, he even got nasty with her, saying, " Why don't you come up to my room for a fuck…yea…I wanna see you naked!"
After he placed his hand on her ass, Becky yelled, " You ugly piece of shit…one day you'll get yours!"
She began walking toward the science builing. He followed her and said, " You know…if you play your cards right, you can have me."
Walking faster now, the girl yelled, " Fuck you…get away from me!"
As both individuals proceeded toward the building, Lance saw a security guard. Fearful she would report him, the troublemaker backed off and went in another direction.
Becky entered the science building and went to her chemistry class. The sexy dark-haired girl was now in her last year of college and ready to proceed with post a graduate program. As she seated herself in the chemistry class, Becky glanced over and saw good looking blonde Lisa. Lisa was one of her best friends. They knew each other before college. When Becky looked in Lisa's direction, Lisa saw her and smiled.
After the period ended, both ladies got up and moved toward one another. They left the building and saw Meg, Meg yelling, " Hey…wait for me!" Meg was a biology major and happened to be good friends with Becky and Lisa.
When Meg finally caught up with the other two girls, she ask, " So how's everything today?"
" Oh…it's ok except for one pain in the ass.", replied Becky.
Before Meg had a chance to ask what the problem was, Lance showed up around one of the administration building's corners. The jerk walked directly up to Becky and said right before the other two ladies, " So you think you can get away from me that easily…well guess again…I'm not that easy to shake off."
Meg came to the deffense of her friend and replied, " Why don't you leave her alone…you piece of shit or I'll call one of the guards!"
Lance answered with, " Oh…I'm scared…security is gonna beat me up." However, he hesitated for a second and finally said, " I'll see you some time soon, Becky." Afterward, he simply walked in another direction and left.
Becky said to Meg, " That's the problem I was taking about."
" I can't believe that creep…who the fuck does he think he is?", said Meg.
Lisa interceded and remarked, " What he needs is to be taught a good lesson."
Next, Meg spoke, " Maybe that can be done." She went on, " Why do we always have to be the ones who are afraid?" Continuing, she said, " We should teach that jerk a lesson he'll never forget"
" Like what?", ask Becky.
" I'm not sure…but perhaps I can think of something.", answered Meg.
The girls parted in the main hall of the administration building. Each one went to her next class.
The school day over, Becky went to her dorm room, wishing to spend the rest of the night with her studies. However, her phone rang and she answered, " Hello, who is it?"
The voice on the other end was that of Meg, she said, " Hi its me…I think I've got an idea how to handle the creep…I'll be over in a few minutes…I'll pick you up, and we'll go to the bar down the steet from the college and talk all about it."
Becky didn't know what to say. However, Meg quickly said, " It'll be all right, trust me, we'll have a lot of fun tonight."
Becky finally agreed.
About thirty minutes later, Becky heard a knock on her room door It was Lisa. After Becky opened the entrance, Lisa said, " Hi, let's go, Meg's in the van waiting."
" So you're in on this too?"
Lisa just giggled and said, " Yea".
Due to the humorous tone of Lisa's voice, Becky knew that something was up.
The two girls left and went down to the van.
After Becky and Lisa got into the windowless cargo van, they all proceeded off to the bar. Arriving at the place, they parked the van in front. All three young ladies got out of the vehicle and went inside. They looked real good. Each wore a pair of jeans that fit like a glove revealing every outline of her magnificent ass. Further, the girls were dressed in either a blouse or some type of thin flannel shirt. However, the most unique thing about their appearance were the black leather boots going up to their thighs, making them look not only sexy but commanding as well. Finally, they went up to a table and ordered something to drink.
Then, the girls started to talk, continuing on for a good twenty minutes as they drank their whisky and soda. On and off they laughed until they had a wicked plan worked out, finally leaving the bar and going back to the school.
The girls knew from past experience that Lance walked around the university grounds in the evening. Sure enough, as Meg slowly circumnavigated the area with the van, they saw him in the dark walking alone. Next, Meg said, " Let's wait until he walks a bit further near the end of that lot, then we'll get him." After a few minutes, Lance did indeed walk toward the blackened edge of the lot. He ventured into the darkness and took a piss against one of the trees. As he heard the sound of the van, he looked back and pulled in his cock. The vehicle moved up, and from the back door there emerged Lisa with a revolver in hand. The gun came from Meg, her parents always had it laying about the house. Meg simply decided to use it today.
After Lisa got out of the van, she pointed the pistol at Lance and said, " Let's go creep…into the van."
Lance ask angrily, " What the fuck are you doing…bitch?" As she continued to point the gun at Lance, he instinctively knew she was serious by her facial expression. Finally, the frightened guy stepped into the back of the vehicle, followed by Lisa who closed the rear door behind her.
Meg drove toward a wooded area a few miles away from campus. As they drove, Becky said to Lance as Lisa continued to point the gun, " Take off all your clothes, asshole!"
Lance looked on for a few moments but complied as the girls remained silent with evil looking stares. Removing everything, he then sat naked before Becky and Lisa.
As they looked at him, the girls started to giggle.
The ladies continued to mock him when Becky said, " So you want me…you ugly bastard, well here, how about this?"
Pulling down her pants and panties, she stuck her ass right into his face, saying, "Lick my asshole, creep!" He turned around and looked at Lisa holding the gun. She simply smiled and shrugged her shoulders. Turning back, Lance did as he was told, licking her ass until she ordered him to stop. Next, she simply pulled up her attire and spit into his left eye. She said, "Looks like I did play my cards right…and I got you now…right where you belong!"
Meg finally brought the van into a secluded area. Parking the van near a spot densely packed with trees and brush, Meg turned off the engine but left the lights on pointing toward a section of the wooded area. Next, all three girls got out of the van with Lance right before them being held at gunpoint. Also, Lisa took up a few strands of coiled rope which was in the van.
Becky yelled, " Let's go, creep, in the woods!" The prisoner went into the foliage, feeling the pain of the twigs and sticks upon his naked body. They finally reached a small clearing with some trees in the center.
Lisa said, " Lay down between those two trees."
Lance laid himself down.
Lisa commanded, " Stretch out your arms toward this tree." She motioned to the tree directly before the top of his head. Next, she gave the rope to Meg and said laughingly, "You can have the honor."
Meg proceeded to tie his wrists together, tying the other end to the sturdy tree. The young woman did the same with his ankles, tying the remaining slack about the other tree trunk near his feet. Facing the night sky, Lance was now at the mercy of the girls.
The young women stood around him and started to verbally abuse the guy. They mocked his looks and everything else about him. If Lance tried to say something, Lisa immediately raised the gun and pointed the pistol directly at his head
When the girls were done mocking him, Lisa said to the other two, " Well…don't you think its time?"
The other girls burst out laughing as Lisa gave the gun over to Becky and said, " Here…hold this." The pistol in Becky's hand now, Lisa walked toward Lance and stepped over him with one of her legs. Standing directly over him with her face pointed toward his feet, the lady unzipped her jeans and pulled them down to her knees together with her black panties. After this, she squatted down, placing her nice ass directly over his face. Suddenly, the girl shit right into his ugly face! The other two girls cracked up. In fact, Meg fell to her knees and brought her fist down on the grass. Becky almost started choking as she laughed uncontrollably. Finally, Lisa stood up and sarcastically said, " Oh no…I forgot about toilet paper."
Meg got up off the ground and said, " No problem, there's an old glove in the van, I'll go get it." Running through the woods, Meg came back a few moments later with the glove. She gave it to Lisa, and the bitch put it on. With her gloved hand, she reached down to her ass after squatting low again and wiped her butt clean.
After that, she shook off the glove and said to Lance, " We're not done yet, I've really gotta piss."
She pissed into his face, letting it all go. Once again, the other two girls laughed and laughed. When Lisa finished pissing, she stood up and raised her panties and trousers. She stepped over Lance and walked back a few steps. Then, she said to Becky laughingly, "I'll take that back now."
Becky returned the gun to Lisa and walked over to Lance, stepping over him with one leg and standing directly over the man as Lisa had done previously. Lowering her pants and underwear down to her knees, She also pissed into his face. Again, the girls laughed and laughed!
Finally, it was Meg's turn. She moved over to Lance and placed herself over the unfortunate guy, pissing on him as well!
When Meg was done, Lance managed to ask, " What are you going to do with me now?"
Lisa replied, "We're gonna leave you here…that's all."
Lance started to plead with her, " Please, please don't leave me here…no one may find me!"
Lisa's reply was immediate, " To bad, asshole, see if I care." She went on, " And another thing, if and when someone does find you, you're not gonna tell them that we put you here. She moved the gun to his head and said softly, " If you do…we'll kill you…is that clear?"
Lance simply nodded in agreement.
Lisa gave the pistol to Meg and said, " Here…take this back where you got it from."
Meg took the gun from Lisa. All three attractive young ladies walked back to the van and drove off. Meg dropped Becky and Lisa off at the university and drove straight home, returning the gun to the livingroom table drawer where she found it.
Lance, on the otherhand, just laid there. He felt very defeated and afraid. However, after a few hours, he started to yell and scream in the hope that someone may find him. Eventually, a cop found him, standing directly above Lance, shining a flashlight into his face. The officer initially said with surprise, " Holy shhhh…" Catching himself, the man simply ask, " What happened to you?"
At first, Lance didn't know what to say. Nevertheless, he finally responded, "Some people kidnapped me at gun point and drove me here." Lance continued, " These people then humiliated me as you can see for yourself."
The cop said, " Here, let me cut you loose."
The patrolman reached in his pocket and produced a small knife. He opened it and started to free Lance. Lance immediately untied the remainder of the rope from his wrists and ankles. The cop said, " Here…I got a large container of water in the trunk, I'll be right back."
Leaving, he returned with a five liter water container made of plastic, pouring the water over Lance until the guy was cleaned off. The cop also gave Lance a blanket from the patrol car to cover himself.
After Lance sat himself on the passenger seat of the police car, the cop ask, " Where do you live?"
Lance explained to him that he was a student at the university and lived on campus. Next, the cop started the car and drove toward the school. On the way there, the policeman continued to ask Lance further questions about the people who kidnapped him. Lance simply said he didn't get a good look at them because it was dark. After the police car arrived at the university, the cop pulled up before the dormitory and let Lance out. Finally, the officer took down Lance's name and drove off.
Meg got up the next morning and dressed herself. As she was getting dressed, the girl remembered she forgot about Lance's clothes, the stuff was still in the van. After putting her clothes on, she went downstairs to eat breakfast. When the young lady was done, she got her books together and told everyone else in the house goodbye. She went to her van and got in. After the pretty girl drove halfway to school, she stopped along the street and waited until no one was around. Meg went back to the end of the van and got his clothes, taking the stuff and throwing them down a sewer. Feeling secure, she got back into the van and continued to the university.
At the school, she bumped into Lisa and Becky. All three girls began laughing about the previous night, making remarks about everything they did to Lance. Next, Becky said, "Thanks girls…perhaps that'll keep the creep away from me for good." The young ladies proceeded to their classes and the day went by with no problem. Moreover, they didn't see Lance even once that whole day.
Lance, on the other hand, spent the whole day alone in his dorm room. He felt horrible and didn't say much of anything.
Weeks went by with nothing of exception happening. However, one evening, Lisa called Becky on the phone, saying, " Hey Becky, something really strange has happened today in the lab. I was working with Meg…we found something you might wanna see."
Becky said, " Ok, I'll be right over."
Arriving at the lab, Becky walked over to the other two girls. Becky asked, " So what's the big deal?"
Meg said, " Here, look into that dish and watch what happens when we pour this liquid into it." Meg reached for a test tube filled with a yellow substance and poured it into a petri dish full of a specific form of bacteria. After the girl spread the substance all over the bacteria, the colony slowly started to disappear.
Becky said, "So…all you did was kill off a colony of bacteria with some kind of poison."
Lisa interceded and spoke, " That's the whole point, we didn't kill anything."
"What do you mean?", responded Becky.
Lisa answered, " Here…look at the same stuff in this dish through a microscope."
Lisa placed a small sample of the contents of the dish upon a slide. Next, she said to Becky, " Here, look." Becky peered down the scope and saw that the colony was indeed still alive. In fact, it was the same colony…only much smaller.
Becky looked up and said, " It appears as if you shrank the whole colony."
The girls continued to study what they had discovered. They would return every evening to the lab to see more interesting things about their discovery. In fact, one day, Meg brought in a plant growing I a pot of soil. Next, she poured the substance over the soil and a few moments later, the plant shrank before their eyes. It got smaller and smaller until the thing only stood a fraction of an inch high. This excited the girls to no end. Next, the following evening, Lisa brought in a mouse she purchased at a nearby pet store. Placing some of the substance into a dropper, the girls forced the liquid down the animal's throat. A few moments later, the mouse shrank to an insignificant size. The creature was only a few millimeters in length. The girls had to use a magnifying glass to watch it. Finally, Becky ask, "Do you know what we have here?"
The other two answered, " Yea…power!"
They promised each other never to tell anyone about the discovery. The girls decided amongst themselves that they would use it to advance their own gains in cooperation with one another. No one is ever to understand the secret and the power the three girls now have in their possession.
The weeks past with nothing else of great concern. The days went by with ease and the ladies seemed quite happy with the knowledge they now had an edge over everyone else.
However, things changed when Lance stepped back into the picture. One day, Becky was walking to one of her classes past a corner of the administration building. Before she could tell what had happened, Lance stepped forward and pushed her up against the wall. He said in an angry tone, " You fucken bitch…you think I'm going to let you get away with what you whores did to me!" He continued to talk, " You bitches can threaten me with my life all you want…I can threaten you as well!"
Becky responded, " Leave me alone or I'll scream!"
" No you won't…if you do, I'll report the whole thing you cunts did to me to the police."
Becky yelled, " Fuckyou…we can handle you our own way!"
Lance replied, " Oh yea, we'll see about that."
Just as Lance was about to raise his hand against Becky, he heard someone coming. He simply turned around and left. Becky, on the other hand, immediately went to her next class.
At the end of the day, Becky called Lisa and told her what had happened. Lisa said, " You know what has to be done…right?"
Becky replied, " Yea, but how do we do it with no one else finding out?"
Lisa told Becky that she, Lisa, would call Meg and all three of them should meet at the bar to talk out a plan.
This they did. Sitting in the bar for about ninety minutes, they devised a diabolical plan of murder. Yes, they would get rid of Lance once and for all in the most humiliating way possible.
The next day was Saturday and there were no classes. All three of the girls were at Meg's house. They had the house all to themselves because Meg's parents were away that day not to return until later in the night.
All three of the young women now sat alone upon the livingroom solfa. Next, Meg ask, " Should I do it now?"
The other two laughed and said, "Yea".
Reaching for the phone, Meg dialed the information office of the university. Then, she ask in a disguised voice, " Can you please connect me to Lance's room…room 235?" A few moments later, Lance's voice was on the other end. Next, Meg proceeded in the disguised voice, " I saw what those girls did to you that one night in the wooded area."
" Who is this?", ask Lance
"Let's just say its someone who wants to help you get even with those bitches."
Lance listened to the voice as it finally ask, " Why don't you come over to 1220 Houser Street, and we'll talk it over?" At first, Lance seemed somewhat hesitant, but he then decided to cooperate. He hung up the phone and picked it up again to call a cab. The car arrived and he was taken up to Meg's house.
After leaving the taxi, he walked up to the house. Since he didn't know it was Meg's house, he rang the doorbell. The door opened and there was Meg with the revolver in her hand pointing it straight at him. She said into his surprised face, " Get in here…you scum!" Lance walked into the livingroom only to see the other two girls looking at him with wicked smiles.
Becky then said, " Asshole, we fooled you…you walked right into our trap."
Lance started to plead with them, saying, " You'll never get away with this…its illegal you know."
Lisa simply said, " Fuck you!"
With Meg pointing the gun at him, Becky ordered, " Take off all of your clothes." Once again, he had no choice and simply obeyed. As he stood naked before the girls, he noticed that Becky and Lisa also started to remove all of their clothes. Once they were completely naked, they slipped back into their sexy highheeled boots.
Next, Meg gave the gun to Lisa and said, "Hold this." Meg did the same with her attire. Finally, she too went back into her footwear and stood naked before Lance. The young man was now a little confused. He couldn't figure out what the three ladies had in mind.
Becky then said, " I'll be right back." She walked into the kitchen and opened the refrigerator. After pouring part of the contents of a bottle of diet sprite into a glass, she returned to the livingroom. The naked girl went to the solfa and opened her purse, producing a test tube full of the yellow substance. She opened the tube and poured the liquid into the soda. Finally, she walked over to Lance and gave it to him saying, " Drink!"
Looking at it in his hand, Lance said, " So you think you're big by forcing me to drink some of your piss."
Becky replied, " Its not piss."
The other two girls laughed on as Lance drank the contents of the glass.
A few moments later, he began to shrink, getting smaller and smaller before the girls. As he looked up to them, they began looking like giant women from another world! Finally, he stopped shrinking and now stood three inches in height before them. All three of them just stood there with their weight resting upon one leg and mocked him for fifteen minutes. They were completely thrilled at their accomplishment.
Next, Meg said, " We need something to celebrate with." She left the livingroom to go to the kitchen. She took three glasses and filled them with the remaining contents of the diet sprite bottle. Placing the filled glasses upon a tray, the lady walked back into the livingroom. Each girl took a glass.
Lisa placed the gun upon the livingroom table before reaching for the glass. She remarked, " Don't need this anymore…I don't think he can hurt any of us now." The other two laughed and started to drink the pop. They continued to look down at his tiny little stature and mock him further.
As he stood there like a fool, all three girls started to take turns at spitting whole mouthfuls of pop down at him. They also started to torment him by placing the soles of their boots over him in the mocking gesture of trying to crush him. He tried to run away, but the victim was surrounded; there was no place for him to move.
Finally, the ladies got tired of the little game. Becky said, " Its time for business."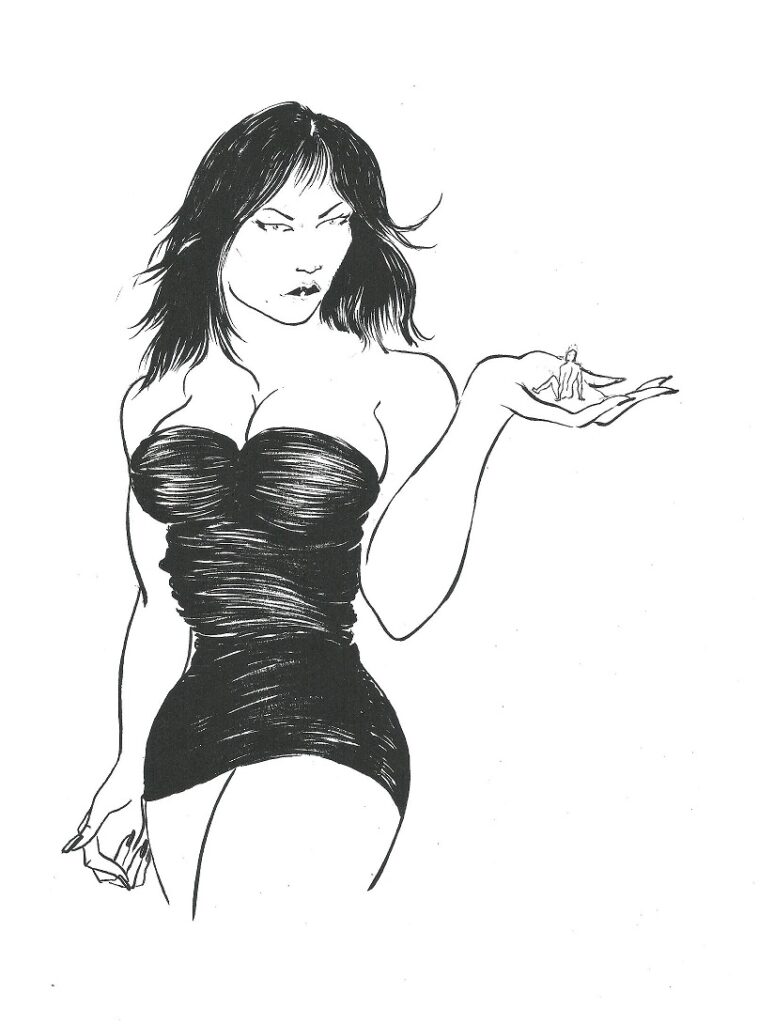 She picked up Lance, held him, then walked to the solfa. She dropped him upon it and sat down next to him placing her beautiful ass near his tiny frame, saying, " See my ass, why don't you kiss it." He then proceed to kiss her ass until she ordered him to stop.
Finally, Becky got up and said to the other two, " He's all yours for a while."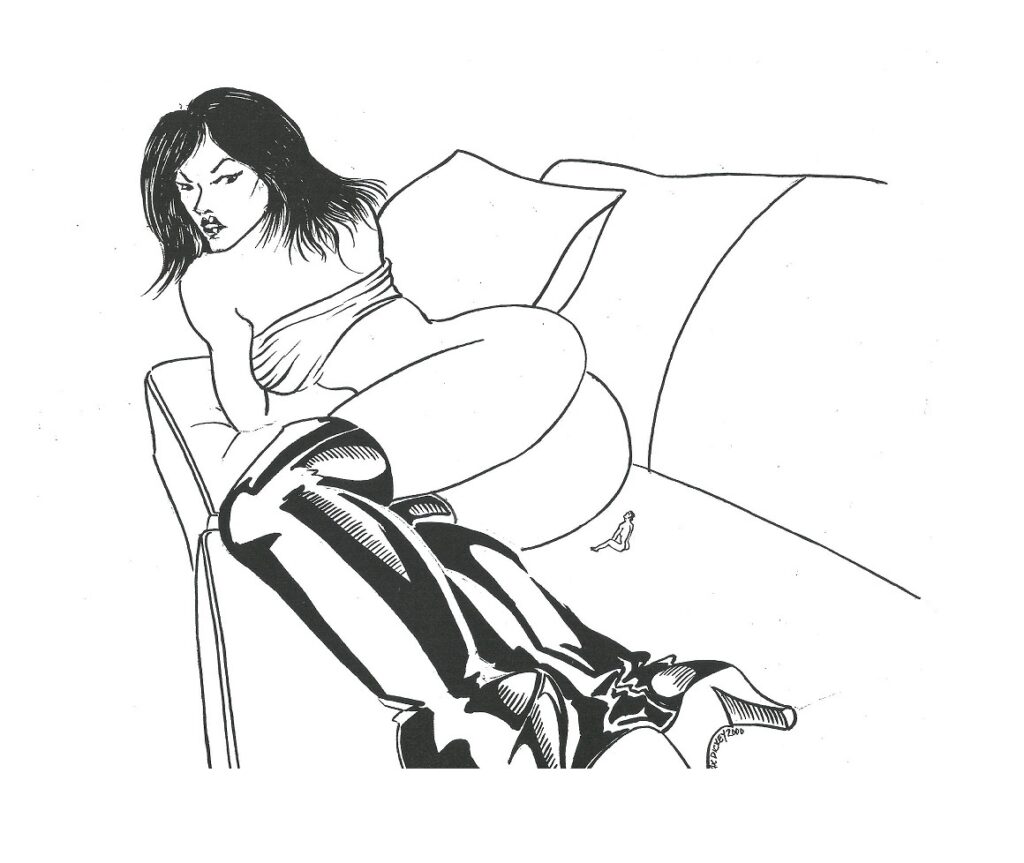 Walking over, Lisa picked him up, lowered him to her pussy and began using him as a dildo. She shoved him inside and moved him about. The other two ladies listened on as Lisa exclaimed, " Oh, oh, oh yes…what a feeling!!!!" Reaching orgasm, Lisa finally pulled him out of her beautiful cunt, dropping him back upon the solfa and wiping her hands together while walking away.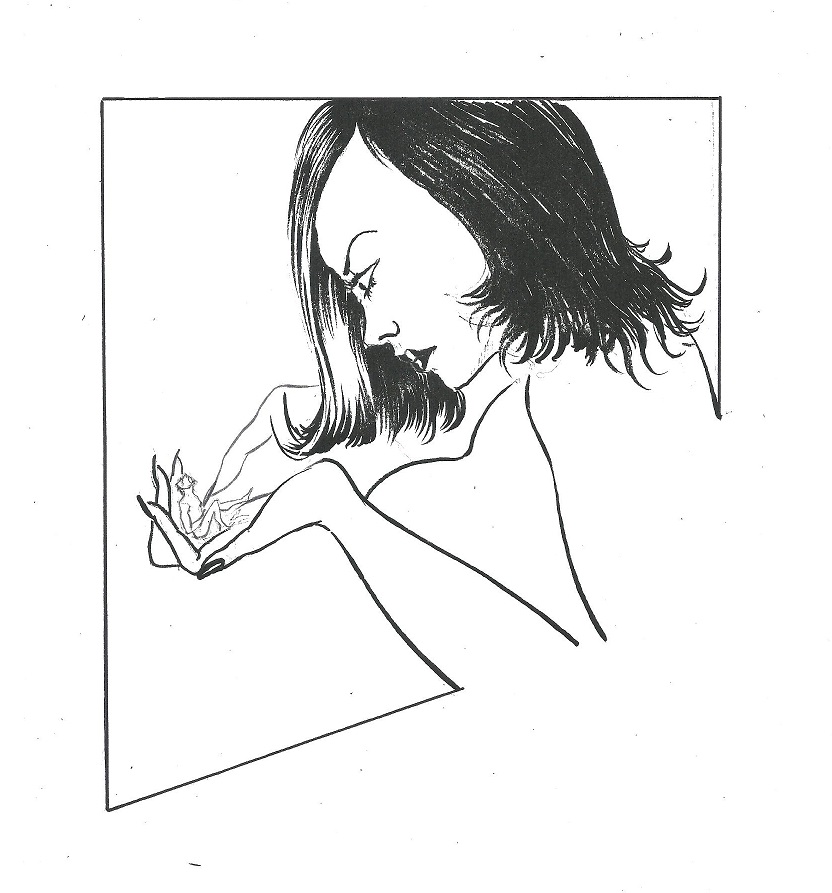 Then, Becky asked, "Well Meg, what's your pleasure?"
Meg walked over to the solfa and bent down before it, placing her magnificent tits right over Lance. She caught him between her breasts and pushed both tits together. She raised him up with her boobs and then stood straight. She proceeded to constantly rub her tits together with the tiny guy in between. After the young lady tired of the whole thing, she simply moved back to the solfa with her breasts directly over it and let lance fall to the cushion.
Next, Becky said to the other girls, " Don't you think its time to get rid of this piece of shit?"
Lisa replied, " Yea…and this pop is really making me have to piss!"
Hearing this, the other two began laughing.
Done laughing, Becky reached down and picked up Lance by one of his arms. He simply hung between her fingers. Next, with Becky in the lead, the girls proceeded upstairs to the bathroom. Becky walked up to the toilet bowl and let Lance drop directly into the water. He realized what the girls intended to do. He started to yell up from out of the fixture, " Please…please don't kill me!"
Turning around, Becky sat her ass on the toilet seat. She took a shit right down on top of him. Next, the girl pissed on him, peeining out all the pop she drank!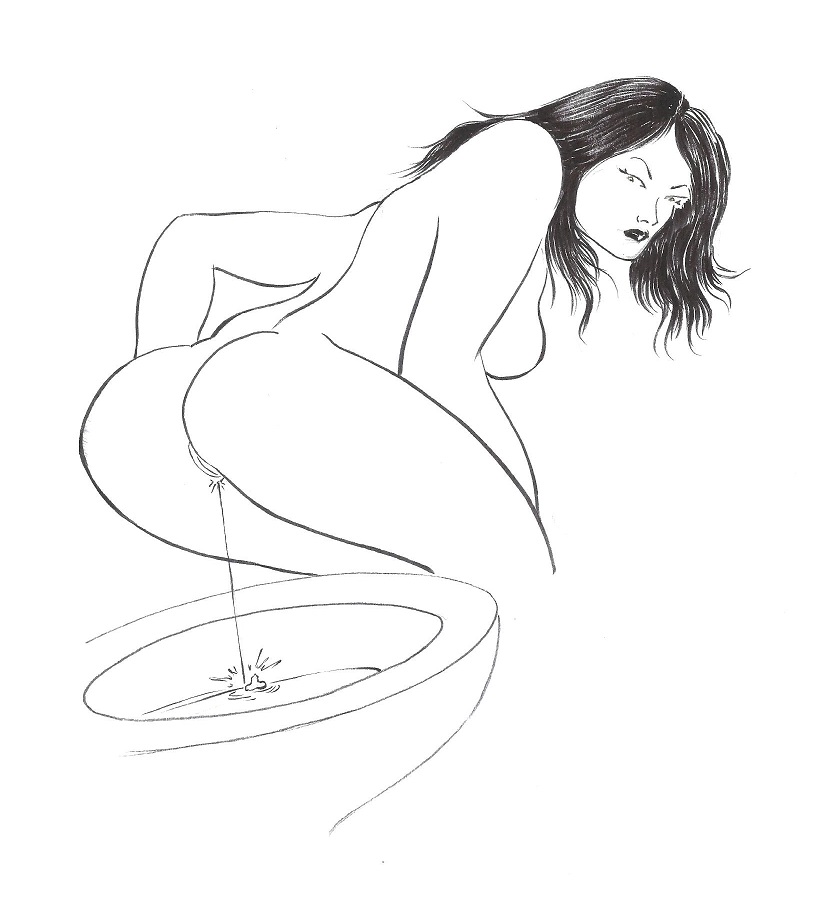 As Becky shit and pissed on little Lance, the other two ladies looked on and laughed. In fact, Lisa remarked, " Hey Lance…fuck you…ha ha!?" The other two giggled at her remark.
After Becky finished her business, she reached for some toilet paper and wiped her nice ass. She dropped the used paper down on Lance.
Next, she got up and said to Lisa, " Well, what are you waiting for?" Lisa sat down on the toilet and took a piss. She pissed straight down hitting Lance on occasion as he swirled about with the current generated by her flow. When she was done, she got up and then Meg sat down on the toilet and did the same, pissing on him with great delight.
After Meg finished, she got up and Becky walked back over to the fixture and looked down, saying to the pathetic creature, " You're nothing now…and now it's fucken time to die!"
"No…please…no!", cried Lance, swimming around in piss and shit!
Having no mercy, she flushed the toilet, sending him down to his death!
The End